---
Quotes from The Dragonriders of Pern series.
With a short summary, author bio, and review snippets.
Part of our dragon quotes blog post series.
SUMMARY:
The Dragonriders series was written over four decades and comprises of more than 20 novels.
The series is notable for marrying elements of fantasy to pure science fiction. The story takes place on the planet Pern, which Earthlings have settled.
An utopian idyll initially, Pern has degenerated into a tense feudal society after centuries of human habitation. The greatest threat to Pern is Thread, a type of deadly spore that rains down periodically.
To combat Threadfalls, inhabitants have cultivated a species of large, airborne, telepathic and eminently congenial dragons, whose fiery breath can vanquish the Thread.
Reference: New York Times
AUTHOR BIO:
Anne Inez McCaffrey (1 April 1926 – 21 November 2011) was an American-born writer who emigrated to Ireland. She was best known for the Dragonriders of Pern fantasy series.
During her 46-year career as a writer, she became the first woman to win a Hugo Award for fiction and the first to win a Nebula Award.
Her 1978 novel The White Dragon became one of the first science-fiction books to appear on the New York Times Best Seller list.
In 2005 the Science Fiction and Fantasy Writers of America named McCaffrey its 22nd Grand Master, an annual award to living writers of fantasy and science fiction. She was inducted by the Science Fiction Hall of Fame on 17 June 2006. She also received the Robert A. Heinlein Award for her work in 2007.
Reference: Wikipedia
REVIEW SNIPPETS:
If you have not read these books, you really need to do so. I consider them a classic in their own genre and they are Anne McCaffrey at her very best.
~ RebeccaReads
SELECTION OF QUOTES:
A weyr is where a dragon is, no matter how it's constructed.
~ Brekke to F'nor in Dragonquest.
Dragon kind was no less cruel than mankind. The Dragon, at least, acted from bestial need rather than bestial greed.
~ A thought by Lessa, in Dragonflight.
Green dragons are…how do I put it, kindly? Eager, loving, willing, too friendly for their own good…
~ Debera, rider of green Murath in Red Star Rising/Dragonseye
I think we're all going to find out that being a dragon rider is not just sitting on its neck and going wherever we want to.
~ Red Star Rising
Now she knew what was needed: to fly fast, far and long, away from the Weyr, away from these puny, wingless ones, far in advance of those rutting bronzes.
~ DragonFlight
One of our main functions is to keep a dragon from excessive eating.
~ DragonFlight
The dragons could never understand why they generated such object fear in common folk.
~ DragonFlight
Dragonmen, were forever men apart once First Impression had been made. And to ride a fighting dragon, blue, green, brown, or bronze, was worth the risks, the undending alertness, the isolation from the rest of mankind.
~ DragonFlight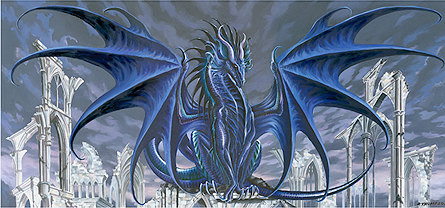 Were not ballads constructed to inform? To teach those who could not read and write? So that the young Pernese, whether he be Dragonman, Lord or Holder, might learn his duty toward Pern and Rehearse Pern's bright history?
~ DragonFlight
Dragonman,
dragonman,
Between thee and thine,
Share me that glimpse of love
Greater than mine.
~ Dragon Series
Honor those the dragons heed,
In though and favor, word and deed,
Worlds are lost and worlds are saved,
By those dangers dragon-braved.
Dragonman, avoid excess;
Greed will bring the Weyr distress,
To these ancient laws adhere,
Prospers thus the Dragonweyr.
~ Submitted by: Wingrider
Jess Chua has been webmistress of Dragonsinn since 1999.
She works in the online writing/editing field. She enjoys yoga, reading, and sketching.
Live a dragon-inspired life and support the site by joining Dragonsinn 2.0!
---