---
A look at dragon food and beverages…with a special guest serving up an epic meal for a hungry dragon. Stay safe during these times!


Theme: "Dragon Food + Drink"
Holy moly, the coronavirus pandemic is something we haven't seen since the formation of this site two decades ago.
Be sure to follow some basic essentials such as taking care of your mental health and managing your personal finances.
As you can imagine, I've been busy taking care of some things on the home and professional front.
This month's issue features a guest interview, followed by some unique dragon food and beverages.
Short Note about Color Scheme
I switched up the color scheme and template for this ezine issue's header image.
The January issue followed a greenish color scheme. But I've been thinking of going along with a more energetic hue for some future header images.
Let me know what you think!
---
Special Guest: Chef Adventures
Here's Chef Jason and Chef Charlene (Charlene is my partner's sister — who happens to have the same name as my older sister)!
I reached out to Charlene to see if they'd be interested to share some cooking tips and take part in a dragon-themed QnA.
Cha was "over-the-moon thrilled" as this is the first interview they've done.
I've taken a while to get this post together (what with the coronavirus and all)…so hopefully the amazing and mouth-watering pictures make up for some of my slowness.
Here's a little bit about Chef Adventures, followed by the QnA and their social media links.
Short Bio
Chef Adventures is a husband and wife Chef team that has a combined 32 years of industrial kitchen experience.
Chef Jason and Chef Charlene (also known as "The Hot Chef") have been happily married for 10 years. They have two beautiful little girls and food is their passion. Be sure to check them out on their Chef Adventures YouTube cooking channel.
Now let's see how these super chefs would feed a dragon!
Interview
1. Describe yourself in 5-10 words.
At Chef Adventures, we are: crazy, passionate, food loving chefs!
2. How much food/drink could a dragon eat per day?
We believe that dragons are mainly carnivores and have a voracious appetite.
Perhaps they eat several livestock such as cows, goats, and sheep per day. A single one might even drain a small pond to satisfy its thirst!
3. Share some of your best cooking tips.
A few good cooking tips that we use at Chef Adventures that are tried and true:
Cook from your heart.
Cook from your soul.
Feel the food you are putting out.
Cook like every meal is being prepared for royalty.
And always, always taste test!
4. What do you like most about dragons?
What we love about dragons is how mystical they are.
There are so many different types of them, from the classical European dragon, the French Gargouille water dragon, the Slavic three headed Zmey Gornynych, all the way to the kind and giving Chinese dragon known as long or lung. This amazing creature brought good luck and bounty. Long is Chef Adventures' favorite! 🙂
5. Prepare a delicious meal for a hungry dragon.
If we were to prepare a delicious meal for a hungry dragon it would definitely be epic!
The meal would consist of salad, two appetizers, three entrees, and a smorgasbord of desserts.
Continue reading to see the breakdown of what we'd prepare.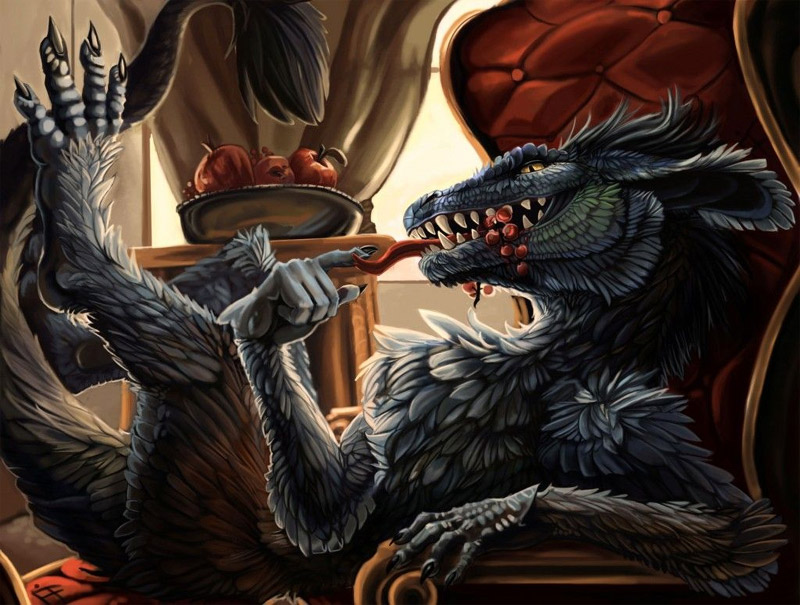 Starter:
Vegetable Feast – lettuce, carrots, turnips, herbs, nuts, olive oil, vinegar, and sugar.
Appetizers:
– Bacon Wrapped Baked Quails
– Broiled Chicken Livers with Creamed Garlic and Toast
1st Entree:
– Slow-cooked Stuffed Goats
– The stuffing would consist of bread cubes, rice, and fresh herbs
2nd Entree:
– Tender Whole Lamb Roast
– Served with Caramelized Onions and Boiled, Buttery New Potatoes
3rd Entree:
– Crispy Skinned Suckling Pigs
– Served with Brown Sugar and Bourbon Baked Apples
And last but not least, for Dessert:
– Pears in Red Wine
– Strawberry Pudding
– Marzipan Cakes
– Medieval Gingerbread
– Honey Biscuits
If there are any chefs that can handle a dragon, it would be CHEF ADVENTURES!
Social Media Links
Chef Adventures posts new vlogs/videos regularly.
You can follow them on Facebook (public page or private group).
TikTok: @chefadventures
Instagram: @chef.adventures
YouTube Channel
YouTube: youtube.com/chefadventures
Here's a popular 2 ingredient pizza dough recipe (very helpful for quarantine cooking):
If you like French Toast, this one's a great video to check out (filmed in their backyard in the sunny state of Florida):
---
Dragon Food and Beverages
And now we'll make our way through some dragon-themed food-related items that I've come across over the years.
1. Dragon Eggs Recipe
Here's a dumpling dish using ground pork and jalapenos known as Dragon Eggs.
2. Dragon Sushi Roll
An artistic dragon sushi masterpiece.
To learn how to make the dragon sushi roll at home, visit MakeSushi.com.
The recipe uses tempura shrimp, Nori seaweed strips, unagi filet, and cucumber slices to bring this sushi creation to life.
3. Dragon Beard Candy
Dragon Beard Candy is a Chinese candy. The process of making it is similar to making hand-pulled noodles.
The candy "hair" is very fine and it's filled with crunchy peanuts and sesame seeds.
FoodGal.com says that according to legend, a Sung Dynasty emperor loved the candy so much that it became an imperial palace treat reserved only for royalty. The dragon was a symbol associated with the emperor, and the many strands of candy resembled the emperor's beard.
If you're in San Francisco, visit Dragon Papa by the Tam family who has been making the dragon beard candy for five generations. The younger Tam's ancestor used to make the candy for the emperor in the Beijing.
And if you'd like to try making this at home, follow this dragon beard candy recipe from Food.com.
Thanks to my mum for suggesting this one!
Image Credits: FoodGal.com and Azany.tumblr.com
4. Dragonfruit
Dragonfruit is a sweet and crunchy tropical fruit. The fruit comes from a type of cactus that includes twenty different species.
According to The Spruce, dragonfruit is used to create many drinks and desserts and is a healthy fruity snack by itself too.
The fruit was named after its appearance where the pointy sections around the fruit's outer layer remind us of a dragon's scales.
P.S. The Spruce also has a dragonfruit sorbet dessert recipe.
5. Dragon Drink from Starbucks
Starbucks has a bright pink Dragon Drink with a refreshing and tropical taste. It's crafted with mango, dragonfruit flavors, coconut milk, and includes small bits of real dragonfruit.
Starbucks Copycat
For those of you who'd like to try the Starbucks recipe at home, Mandy Olive has a "Starbucks Copycat Mango Dragonfruit Refresher" homemade version!
6. Dragon Ink Cup
This one's a cool dragon ink tea cup from Stash Tea.
I've been an avid tea drinker for a long time. I have a teapot at home — it has a slight chip on the inside, so I might get a new one some time in the future.
Some of my favorite teas include chamomile, lavender chamomile, green, white, roobois, and mango green tea.
P.S. The Eastern Dragon art and Japanese Good Luck Dragon (Fuku Riu) pages have been transferred over to this new site.
7. Dragon Oolong Tea from Tea Republic
A healthy choice from the good folks at Republic of Tea.
The pretty and celestial artwork makes it one of the more memorable product design pieces I've seen when it comes to oolong tea.
8. Dragon Tea Set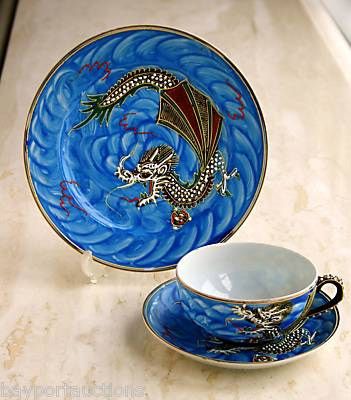 How can anyone say "no" to this?
This is part of a 21-piece handcrafted porcelain dragon tea set, possibly from the 1930's.
9. Geisha and Dragon Having Tea
Artwork by ghost58 of a geisha having tea with a celestial dragon.
As someone who also loves cats, I love the addition of that feline friend in the artwork.
This article from Toki has more info on the fascinating culture and history of the geisha.
10. Geisha and Black Dragon
A lovely piece of artwork transferred from the old site.
This is "Tea With The Black Dragon" by Mrs Fish, taken by Lapu in 2005.
---
Jess Chua has been webmistress of Dragonsinn since 1999.
She works in the online writing/editing field. She enjoys yoga, reading, and sketching.
Her debut poetry chapbook was published in 2023. Her writing website is jesschua.com
---