---
Originally published 22 Dec 2018. Last updated on 13 Feb 2020.
This is a continuation of dragon sculptures and carving photos that were transferred over from the old website.
Dragonboat Carving
Here is a great photo of a dragonboat carving.
The photograph was featured in a 2012 article on the Tampa Bay International Dragon Boat Festival. Dragon boats feature a dragon's head in front while a tail is featured at the back. A drummer at the front of the boat maintains a steady beat for the team.
Tampa Temple Dragons
In the same region, here are some dragon sculptures at the Wat Mongkolratanaram temple in Tampa, FL!
The temple was initiated in 1981 and the present main prayer hall was constructed in 2007. One of the visions of the Buddhist temple is to be a center for meditation practice and study.
The present main prayer hall had its groundbreaking and was built in 2007.
---
Singapore Dragon Carvings
The photo below shows a dragon carving on a wall at Mount Faber Park in Singapore.
I remember taking this photo when I passed by a temple in Singapore…I forgot the name and location as it's been more than a decade ago!
If you know where it is, please contact me.
---
Penang Temple Dragons
These are pictures from a temple I visited in Penang in 1999/2000.
Check out the many heads on the third image.
* * * 2019 UPDATE * * *
A visitor kindly informed me that the two dragon photos below are from the Reclining Buddha Wat Chaiyamangalaram temple, which houses the reclining Buddha.
A Buddhist Thai monk established Wat Chaiyamangalaram in the year 1845. New buildings along with attractions were added over time.
The temple's most well-known feature is a 108 feet (33 meter) long Reclining Buddha statue which is housed within the main shrine.
The second photo of the globe with 2 Kilins / Qilin dragons with wings is of the Dharmikarama Burmese temple opposite the Reclining Buddha Wat.
Dharmikarama Burmese Temple is the only Burmese Buddhist temple that is situated outside of Myanmar.
A big thank you to Mr Laihun Ong, tourist guide in Penang, for sharing the information!
These three photos are newer photos of the same dragon sculptures above (my photos were taken in the year 2000).
As you can see, the dragons have been freshly repainted and have more touches of gold and a vibrant sheen.
The photos were taken by Garen Leong, young panda, and kojikojiko.
---
Imperial Dynasty Dragon Throne
Over here, we see a photograph of an Imperial Dynasty Empress Chair (Ming Dynasty).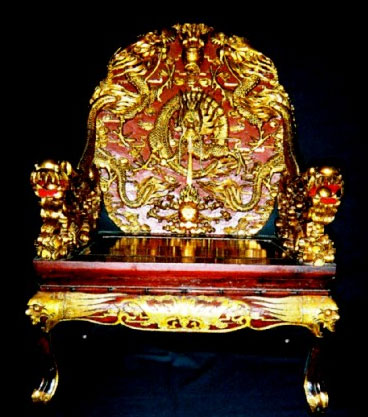 It was brought to the US by a private collector in the 1920's — a doctor and his wife collected rare items from Asia.
Thanks to site visitor David Wayne for sending in the image.
Dragon Playground / Architecture
Last but not least is a unique dragon playground in Singapore.
It was first designed in 1979 and can be found at Toa Payoh.
Thanks to site visitor HL for taking this shot!
---
Jess Chua has been webmistress of Dragonsinn since 1999.
She works in the online writing/editing field. She enjoys yoga, reading, and sketching.
Live a dragon-inspired life and support the site by joining Dragonsinn 2.0!
---