---
Last month's theme was on dragon weapons — this month features a unique array of jade dragons (jade and dragons being two of my favorite things!).
Header image by lezisell.
Dragon Quote of the Month:
"The jade dragon represents happiness, immortality, fertility and activity."
~ eHow UK
Update to Newsletter Format
The monthly newsletters of this year have mostly been a short paragraph with a link to the latest ezine.
I'll be improving the newsletter format from now on to liven it up.
Additions include a featured dragon photo or artist along with some cool things I learned in the month AKA life tips.
Update to Korean Dragons Page
The Korean dragons page from a decade or more ago has been recently improved.
Jade Dragons
If green is one of your favorite colors, this post will be a treat for you. And if it isn't, I hope these images help you appreciate the hue more! (It was my late grandmother's favorite color.)
Jade is a mesmerizing gemstone with a long history, so let's see what we'll learn today with these treasures and carvings.
1. Jade Dragon Ship
On my 2019 trip to Singapore with my boyfriend, one of my old school friends took us to a restaurant at the Four Points by Sheraton, Riverview.
There was a huge jade dragon ship in the lobby.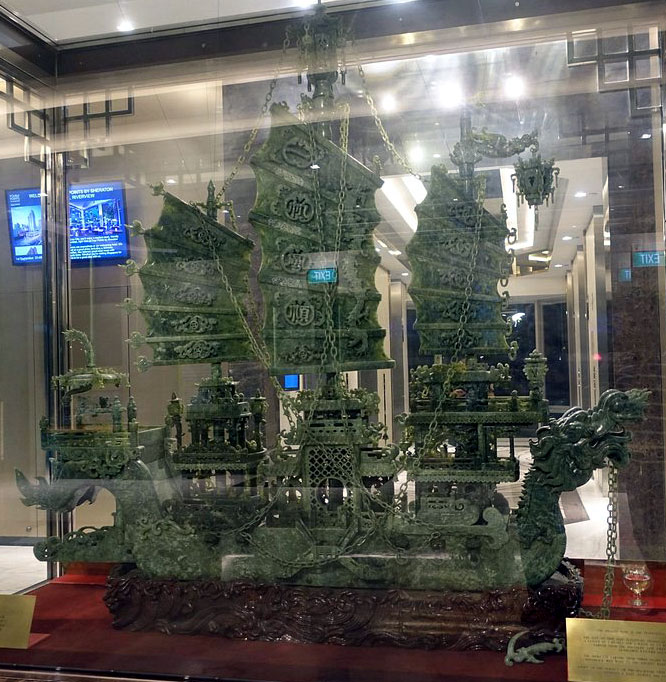 I grabbed a pic from Tripadvisor as I couldn't find some of our old pictures from that trip (doh).
It was hard to get a good photo of it due to the multiple reflections against the glass. Definitely try to see it up close and in person if you happen to be in the vicinity.
2. Jade Dragon Cup
Why drink from a plain ceramic mug when you could sip in style from a jade dragon cup?
This is a jade cup that belonged to Ulugh Beg, the astronomer Timurid emperor. It was made around 1430 and most likely from Samarkand, Uzbekistan.
The region of this empire was located in central Asia, where China meets the Middle Eastern countries of Turkey and Iran.
The cup feels like a small bowl and is made from olive green jade. Jade was not only valued for its beauty but for its association with protective powers. In a jade cup, the cup was said to fracture if poison was placed in it.
There's an inscription in the cup which reads "Ulugh Beg Kuragan," Kuragan meaning "royal son-in-law." Ulugh Beg had married a princess descended from Genghis Khan.
Source: BBC Radio 4 – A History of the World in 100 Objects
3. Jade Serpent in WoW
Jade dragons shine in the virtual world too, as evident in these screenshots.
Check out our old post on WoW dragon screenshots to view more of the lovely dragons in the game.
4. Jade Dragon in Tomb Raider
As some of you may already know, I loved playing Tomb Raider as a teen. I could go on and on about Lara Croft being an inspiring action figure in many ways 😛
According to Tomb Raider Wiki, "Jade Dragon is one of the three secrets that can be found in almost every level of Tomb Raider II. Collecting all three will reward Lara with ammo, medipacks or a weapon."
Here are a couple of artist renderings on said dragon.
5. Jade Dragon and Phoenix Carving
This is a familiar design if you have a penchant for looking up jade items.
The Chinese dragon and phoenix together symbolize a happy marriage or relationship.
The dragon symbolizes male yang energy while the phoenix represents female yin energy. It reflects the perfect synergy and support that life partners share.
I have always greatly enjoyed the balance and positive energy of the dragon and phoenix symbol.
6. Dragon Seal
I had a few small wax seals when I wrote letters to snail mail penpals, which lent a formal yet budget-friendly air to sealing an envelope.
As for jade seals in the Yuan dynasty, official seals displayed political authority.
Official seals produced in the Yuan Empire were made for emperors, princes, preceptors (i.e. instructors) of state, feudal princes and other officials. Various materials and designs were used for different ranks. For example, gold was used for princes, jade for preceptors, silver for upper rank officials, and bronze for officials at or below the third rank.
Source: Alain R. Truong
7. Jade Dragon, Big Garden Sculpture
That building in the background is about the size of an average house, so you can imagine how big this garden sculpture is.
This detailed sculpture is handcrafted and features the Great Wall, several temples, and a camel train crossing the Silk Road.
8. Jade Dragon Pendants
Erica Courtney is a jewelry designer living in Los Angeles. You may have seen her designs on celebrities like Jessica Alba and Sofia Vergara or on the red carpet.
Her timeless jewelry designs have also graced the pages of the most influential and elite fashion and lifestyle publications from The New York Times to Vogue.
Her dragon pendant features lavender jade with gold and diamonds in the border.
And that's another pretty piece (by Element Shine). I like the elegant and contained vibe of the dragon's twisting tail.
8. Jade Dragon Temple
I wish I had visited more places in Southeast Asia when I was growing up in Singapore.
I have a few dragon photos from a trip to Malaysia long ago.
This is the Yu Lung San Tien En Si (Jade Dragon Temple) at Sibu-Bintulu Road. It is the largest temple complex in Malaysia and possibly in South East Asia.
Here's a quick video that Sharifah shared during a walkabout at the Jade Dragon Temple.
9. Jade Dragon Snow Mountain
Jade Dragon Snow Mountain is an always-snowcapped mountain, situated above Lijiang Ancient Town in Yunnan Province, China.
It is said that from a certain distance, the foggy mountains look like a jade dragon lying in the clouds. There is also an epic tale of Jade Dragon and his brother being turned into the two snow-capped mountains in the region, with Jade Dragon's 13 swords becoming immortalized as the 13 peaks of Jade Dragon Snow Mountain.
As the first comment in the video says, this is a truly "other-worldly" place to experience.
10. Video on Jade Artists Carving
If you've ever wondered how much work a genuine jade carving involves, here's a look at the process!
11. See You Next Month (22 year anniversary)
Thanks for coming by for these jade dragons in another issue of Dragonsinn Magazine.
June's theme is most likely going to be on dragon fashion design.
I'm putting together a small worksheet bundle for the upcoming printables shop and working on my first website anniversary post. It's also "adopt a cat" month AND my grey kitty's birthday (24 June).
Looking forward to sharing all that with you next month!
Jess Chua has been webmistress of Dragonsinn since 1999.
She works in the online writing/editing field. She enjoys yoga, reading, and sketching.
Live a dragon-inspired life and support the site by joining Dragonsinn 2.0!
---